My sons who are 9 and 11 have been learning piano from Bill Foley for 3 years, and we can't recommend him highly enough. Not only have our boys grown very attached to Mr. Foley, they've also become quite talented piano players. I can't tell you the number of times a person has asked me for our piano teacher's name after having heard the boys play.
The key to our success with any piano teacher was dependent upon our boys' loving the instrument. We didn't want a teacher who was going to make playing a chore, something they dreaded every day. From the very beginning Bill was tuned in to that criteria. Of course he's an expert in all of the fundamentals that you would expect in a piano teacher, but he has also done many things over the years to keep their interest alive. I remember at a particularly young age, when the boys were starting to get a little tired of one of the exercises, we asked Mr. Foley to bring something the next week that would rekindle their enthusiasm. Sure enough, for the next lesson he brought the Pokemon theme music (they were still little at the time)... and several months later he brought the Star Wars music. Needless to say, those hooked them right back in. When the boys feel overwhelmed, Mr. Foley takes the time to encourage them; when they master a skill he plows on with the next challenge. This month the boys have been working on a duet together, which, frankly, is their favorite part of practice.
I guess the one thing that really makes Mr. Foley stand out from the rest is the way he not only speaks to, but listens to our children. He is very conscientious about explaining the theory behind the exercises and the way in which they are companions to the pieces they play. He doesn't just drill the timing and scales, he carefully explains the virtues of internalizing them... And when one boy is having a hard time, Mr. Foley's little pep talk turns his day around.
Mr. Foley is a great guy and excellent piano teacher -- He's become an integral part of our boys' lives, and we wouldn't have it any other way.
Janice

I have known William Foley for the past fifteen years and have found him to be an exemplary piano instructor. In my position as a music specialist at Castaic Middle School I am often called upon to give referrals to my students who are seeking private piano instruction. After about ten years of referring Bill, I had the pleasure of witnessing his expertise as he taught my daughter. Bill's approach to teaching piano is very well structured and equally emphasizes technique, music theory and overall musicality—therefore, thoroughly developing the aspiring pianist. I highly recommend Bill as his professional approach to instruction is uncompromising.
Jan W. Wakelin, M.A.
Music Specialist, Castaic Middle School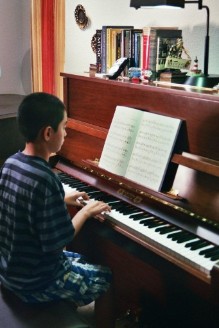 Mr. Bill Foley has been teaching my children piano for five years now and they have made tremendous progress. Not only is he an excellent pianist, he also has a gift as a teacher. Through encouragement and traditional instruction, he guides his students to a true understanding of how to play piano. My daughters have played in several recitals and it is such a joy for our entire family. I am very proud of my daughters' accomplishments and am grateful to Bill Foley for being such a wonderful teacher.

Beth Smith

Knowing how important learning music is as a child, as soon as our son turned 6, we wanted to get him started on the piano. We were very pleased to find Mr. Bill Foley. Not only does he have the years of experience behind him, he was willing to come to our home! He's fees are very reasonable and he possesses the patience needed to teach children. A year and a half later, my son is very proud to say he "knows how to play the piano"!

The sense of pride it has given him is tremendous. He is advancing every year and doing so well.....All thanks to Mr. Bill and our 30 minute, weekly lessons.

All the research shows, that learning music is a great way to help a child use the left side of their brain (math, problem solving etc.) and it is no coincidence Evan has improved in those areas as well. We highly recommend Mr. Bill as a wonderful instructor who will have your child bragging about how they can play the piano in no time!

Sincerely,
Mark and Allison Dean of Castaic
May 25, 2019
To whom it may concern,
This letter is in reference to William (Bill) Foley, who has been teaching piano to my Son since 2015. Bill started teaching piano to my son when was at level 2 and within 2 years my Son reached level 4 and successfully auditioned for high school music academy.
Bill is a tremendous teacher and a great human being, who always shows patience and keeps a smiling face. He is very kind, reliable, dedicated, and shows concern about student's needs and abilities. Bill has a unique ability to motivate student to achieve higher level of skill without student feeling the pressure.
Bill understand children very well and changes his approach and pace according to each child's ability. He shows controlled emotions while teaching, which motivates them.
At the end each session he provides feedback to parents, which is always helpful. Bill also organizes recitals twice a year to builds student's confidence and show their talent to parents.
We love having him as our Son's music teacher and even though he is moving out of California, we will continue to seek his guidance and blessings using online technologies.
We would recommend Bill to any parent or music school for his ability to bring out the best music talent from his students.
Mukesh Tikarya
2711 S Genesee Ave
Los Angeles CA 90016